My purposes in writing the Joy Chronicles are to share with you visions of the future of Earth that is greater than any of us can fully imagine at this time and to offer you opportunities to become a more conscious participant in bringing those visions into reality.
INSTANT MANIFESTATION
The elevation of Earth into its first non-dual dimension, the 8th dimension, means that humanity will no longer be bothered with aging, disease and death! There will even be an end to taxes because in that dimension you have the ability to create instantly anything you desire. Changing your appearance will be as easy as changing your clothes.
"MYTHICAL" SPECIES RETURN TO EARTH
All the species that many of you enjoy reading about but perhaps doubt that they exist will return when Earth reaches the 8th dimension because nobody will be interested in killing or capturing them. We will be able to interact joyfully with fairies, dwarfs, elves, leprechauns, unicorns, flying horses, genies, dragons and more. I have spoken with representatives of each of those species and as you read you will learn about their lives and how they are assisting Earth.
EASY WAYS YOU CAN ADD YOUR INPUT TO EARTH'S ELEVATION INTO NON-DUALITY
In Path of Sweetness, you are invited to energetically step on board an Ashtar Command ship (Inishimora, "The Night Sky", exists on the 10th dimension above Earth in this book.) and add your love, hopes and dreams to the transmissions that Ashtar Commander Tonas and I send to Earth. The ascended masters I work with on the Joy Councils assisted me in creating energy bridges to each event in every book so you will easily be able to find your way to the ship during a meditation, quiet time or you can simply intend to visit us during your sleep.
RECEIVE ASSISTANCE FROM YOUR FUTURE MASTER SELF
Beginning in book two, Blossoming of Love, you are offered opportunities to receive assistance from your future perfected energy presence that exists approximately 350 years in the future. The way to do this is easy and explained in the beginning of this book as well as each following book.
Whether or not you choose to become actively involved in the work/play that takes place in each chronicle, simply reading the books elevates collective consciousness.
TWENTY-FIVE PERCENT DISCOUNT
I hope that you will follow your heart and dive in to the joy. Books 1-6 of the Joy Chronicles are currently available at a 25% discount.
Your companion in heart,
Joy Elaine
Comments
Related Posts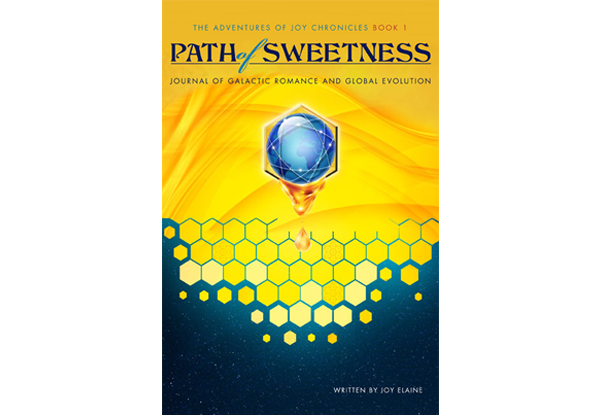 17
Apr
Path of Sweetness: Kindle Discount Three Days Only
The Kindle version of Book one, Path of Sweetness will be on sale this week for three days only. April 20, Thursday, beginning at 5:00 a.m. PST price will be only $1.99. April 21, Friday at 5:00 a.m. PST price is $2.99 April 22, Saturday at 5:00 a.m. PST price is $3.99 The sale ends
5
Apr
Liponie, My True Blue—He Really Is—Genie Friend
In book one of the Joy Chronicles, Path of Sweetness, I got around to asking my angel guide, Esthra, about genies. Of all beings considered to be magical, it has always seemed to me that genies would be at the top of the list; consequently, I've been fascinated by stories about them for much of
29
Mar
Evolution of the Swizzlers
You meet the original version of the Swizzlers in Book One of the Joy Chronicles, Path of Sweetness. At that time, they were a collective of ninety-four energy beings who chose to speak simultaneously through one of their number designated as the "Supreme Overseer." My interpretation of their name was the Council for Earth Vigilance