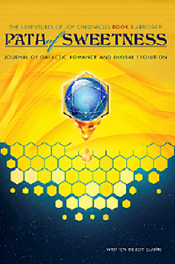 Thank you. Below is the link for you to download and save the abridged version of Path of Sweetness.
The first book in The Adventures of Joy Chronicles leads us down the Path of Sweetness as author Joy Elaine discovers a part of herself that has been living on a different dimension. As she connects with this 10th dimensional version of herself, she begins developing her ability to consciously interact with galactic beings and ascended masters.
To Download Path of Sweetness Abridged version click here
[Note: This is a large file so it may take a few minutes to download]
Enjoy!