The Adventures of Joy Chronicles are your means to connect with and become part of bringing about a bigger vision for Earth that is beyond anything ever experienced by human beings before this time.
Earth and humanity are destined to evolve to non-duality. Becoming non-dual means that individuals will no longer experience aging, disease or death and they will be able to instantly manifest anything they desire, including perpetually renewing youthful bodies. In non-duality the fairies, elves, dwarfs, dragons and other creatures that many believe are "mythical" return to live and interact with us because we have remembered that our true nature is love and that we are all one.
When does that happen? It happens when we reach the eighth dimension (Earth and all of humanity currently exists in the fifth and sixth dimensions with a very few people living in the reality of 7th dimension.)
How does that happen? There are two ways you can help us elevate more swiftly and gracefully into that dimension. (1) just reading about these possibilities in The Adventures of Joy Chronicles uplifts your spirit and helps to elevate collective consciousness (2) if you take a more active role by participating in the transmissions we send out, there are some of these in Book One but most begin in Book Two and onward, you become part of a team of individuals working to assist and uplift humanity into that eighth dimension. Of course, this work also benefits you.
The Joy Chronicles offer you a chance to jump into the most fun ride of your life while participating in expansive, spirit-satiating world missions that support the greater vision of our evolving Earth and beyond. Buy any or all of the books that speak to your heart and join us as we elevate into this new tomorrow.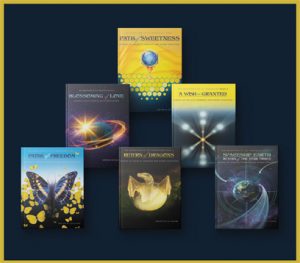 Jump into the Joy Chronicles
Each of the books in the Joy Chronicles contains exciting information about our world's journey to a place of peace, health, prosperity and joy. You are a part of that journey and the paths leading to the sweetness of your every dream and hope fulfilled are lit by the principles of unity that you can't help but understand and embrace as you read these volumes.
World Missions
Each of these world missions offers you an opportunity to be a participant in a tremendous movement that is dedicated to the evolution of our world. If you can imagine the kind of world that you would wish this world could evolve to become, join in on the missions and put your vision and energy into the collective focus of thousands of other individuals that are sharing their visions for peace on Earth.
Since each mission is easy to remember, select your favorites to implement whenever you have a few minutes of free time.
In joy!
If you like our ways, why not give us a buzz?